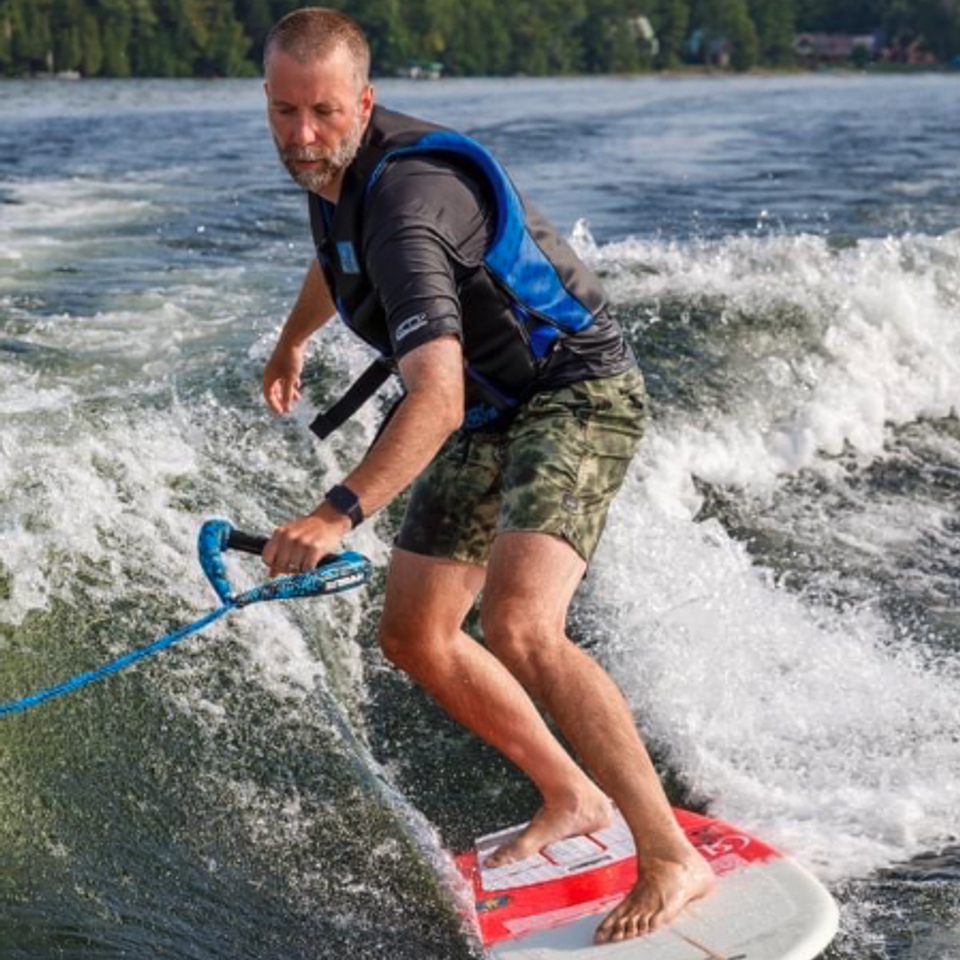 What do I need to bring?

First and foremost a great attitude!  After that most of it is optional but we highly recommend the following: Wear a bathing suit, sunscreen, a towel, sunglasses and/or a hat.   Sometimes it can get chilly even on summer days after you get out of the water so it can also be a good idea to bring a sweatshirt as well.

We provide water bottles to keep you hydrated but if you prefer additional beverages you are welcome to bring them.  You can place them in our onboard cooler to help keep them ready after your surf sesh. (The captain reserves the right to not allow any beverages or food that can damage or stain the boat.  We also want you to have a good time but the focus should be on the activity and not the drinks ;-)

Where do we meet?

The meeting location depends on what activity you are doing.  We have a few options if you are surfing:  If you are staying on Great Pond it is extremely likely that we can pick you up from your own dock and begin the adventure from there.  If you are coming from anywhere else our primary pick-up location is the Public Boat Launch in Belgrade off Sahagan Rd.  Just search for Great Pond Public Boat Launch in any mapping app.  There is parking and a toilet available.   If we need to change location due to wind or availability we will contact you prior to your session.

If you are doing an E-Foil lesson/demo we may be able to come to get you in the boat either at the Belgrade Public Boat Launch, or we might have you come to another location that we can communicate to you once you have booked the lesson.  This will be decided prior to the lesson to accommodate any wind challenges.

Are there changing facilities?

No, we do not have changing facilities so you should come ready to play on and in the water.

What if I need to go to the bathroom?

We highly encourage you to use the facilities BEFORE you get on board as we do not have a head (sailor speak for a toilet) on the boat.  However, we do understand that that isn't always possible.  If facilities are needed we can make our way back to the boat launch or to Belgrade Lakes village where you can use the various possibilities.


What if we get hungry or need to restock on drinks?

One of the coolest things about Great Pond is we have access to Belgrade Lakes Village.  If you get hungry or need to replenish your beverages we can take a trip up the picturesque village stream and dock so you can run to the famous Days Store.  They are a full-blown store that will serve all your munchie needs.  They also make great pizza and sandwiches if you want something a little heavier.  (Time spent in the village is considered part of the session time.  Captain reserves the right to restrict beverages and food that can stain and damage the boat).

Does everyone at my party have to surf?  What if some people in our group just want to watch and enjoy the experience from the boat?

That is 100% fine with us, we just need to keep the total number total number of people in your party at 10 or less.  We love to have parents, grandparents, crazy uncles, sugar daddies or mommas, whoever joins the fun.   We are a "challenge by choice" organization, which means only people who are willing and want to experience the incredible experience of wake surfing should try it.  We will offer encouragement because we know how awesome it is, but we will NEVER force someone to do something they don't want to do.  We are about the fun surfing vibe…not about tears of anxiety and fear.   But if someone in your party is unsure if they want to try it, we strongly suggest they come in their bathing suit so they can be ready if they decide to try it.  And even if they don't want to try surfing, they might want to take a dip in the water to cool off!

What if the weather gets gnarly and the surf session can't happen?

Safety is our top priority.  Your comfort is our second priority.  If the weather is not cooperating we will do everything we can to reschedule your session for the same day or the same week if possible.  We understand that sometimes that is not possible and will refund your reservation minus the non-refundable fee (see Cancellation and Weather Policy below).  We take into account the forecast and make the decision that is safest.  Weather can be fickle in Central Maine and can change quickly so unless it is a foregone conclusion we try to hold off on postponing a trip.  If the weather causes a delay or an early end to the session we will adjust your charge.  In the event of a schedule change, we will reach out to you via text or a phone call.

Are there any other fees? Gratuities?

The price for your private charter is included the boat, gear, water, and crew.  Having said that, if you feel that your crew has gone above and beyond and you'd like to reward them for a job well done, they love to receive tips.  They work hard to make sure every person in your group enjoys and would appreciate any gratuity you feel is appropriate enjoys themselves and would appreciate any gratuity you feel would be appropriate.

Can I use my Action Camera?

Absolutely! Our boat has a mount for action cameras and depending on the brand the camera can be activated whenever we pass a certain speed so there is no need to remember to turn it off and on every time someone surfs.

Waiver Requirement

All guests are required to sign the Liability Waiver prior to engaging in any activities with Central Maine Surf Company.  Guests who are below the age of 18 must have an adult sign for them.  There are no exceptions to this requirement.

Rescheduling, Cancellation, and Refund Policy

Rescheduling your session is possible but you must contact us no less than 48 hours prior to the start of your reservation.  If you would like to reschedule we will apply 100% of your payment to a future session in the current season.

If you want to reschedule your session less than 48 hours in advance of your session, we will work to accommodate rescheduling, however, we can not guarantee that we will be able to do so.  Any rescheduling is subject to our availability.

If you wish to cancel your reservation instead, if prior to 48 hours, we will refund your session charge less a $200 non-refundable fee.  If cancellation is less than 48 hours then 100% of the session fee will be forfeited.


Weather or Equipment Exception

Safety of our guests, our crew, and our equipment is our top priority.  Central Maine Surf Company reserves the right to cancel a session due to weather or equipment availability.   This decision will be made at the sole discretion of the company and will be based on if it is safe to complete the session.

If we cancel a session due to weather or equipment availability you have two options. You may reschedule your reservation for any other available time in the current season, or you may cancel your reservation.  If you choose to cancel, you will be refunded your session fee less a $200 non-refundable portion as per our cancellation policy.

Please understand once booked, your reservation takes that time slot out of "inventory" and can not be sold to another guest. Our season is short and we have a limited amount of time each day to sell to our guests.  Respecting the time schedule and your reservation will help us provide the best service.  If your scheduling changes, the earlier you notify us the sooner we can help find the options that works best for both parties.  If you arrive late for your session, the session will still end at the scheduled time.  Please be sure to be ready on time so you can get the most of your session.

There are no exceptions to the Reschedule, Refund, and Cancellation Policy.
 
Ready for Some Fun? Make Your Reservations Online!